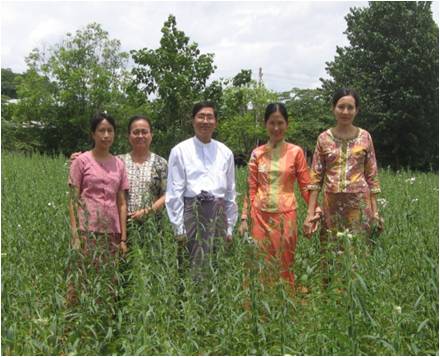 Passionately committed to the teaching of Physiology, I went to the University of Medicine, Magway(UMMG) in answer to the call of duty. It proved to be an enjoyable tough call. What an oxymoron? Tough but enjoyable! Simply because life in Magway was not without difficulty but service there was enjoyable.
Difficulties, however, were not insurmountable. As most of us teaching staffs were not Magway natives, the most daunting hardship was just being away from the loved ones we left behind in our home towns. But Magway is well placed to endow a natural favor for the teachers of big-city universities to be home overnight if one wishes to. Nonetheless, as a Head of department, I couldn't do so as frequently as I wished or needed by my family. Besides, there is cultural richness one can enjoy. This has less to do with the fact that Magway is a big city with divisional headquarters, and more to do with its surrounding. There is Myathalon pagoda to visit (and say prayers to) on weekends as well as week days. Just across the Ayeyarwadi Bridge (Magway), there is Minbu with, in its environs, famous pagodas such as Setkeinte, Shwesettaw and Kyaungtawyar. What's more, for those who are interested in historical sites, there are remains or ruins of old cities like Beikthano and Pagan, both on the left (Magway side)bank of Ayeyarwadi, the former lying 12 miles west of Taungtwingyi, Magway district, the latter near Naung-U, Myingyan district, to visit on weekends. Thanks to the emergence of UMMG, I was promoted to be an associate professor in University of Medicine, Mandalay(UMMDY) with a pledge to serve one year in UMMG on a rotation program. By a quirk of fate, while waiting for my turn, I was promoted again to be the professor and Head of physiology department in UMMG. I was no stranger to UMMG; I had been there a couple of times as a visiting lecturer in the previous 2 years.
UMMG is located about 10 miles northeast of Magway town proper, one mile south of the Yenanchaung-Magway road. It stands tall amidst the farm fields, surrounded by palm trees. There are two 3-storeyed complexes – B & C complexes – housing preclinical-basic science, paramedical and clinical departments, each complex attached with 2 gallery-type lecture halls. Premedical 1st year departments are housed in eight 1-storeyed buildings further south in the campus with rector's office and administrative offices sprawling in between. Lecture halls are equipped with modern media machines such as PA system, computer and LCD projectors, OHP and visual presenters. There are some living quarters for teaching and non-teaching staffs in the southernmost part of the campus. Near the campus a teaching hospital is under construction to be completed soon.
The beauty of UMMG owes much to its surrounding fields which change with seasons. It is bright and hot in summer, temperature hitting over 40° C , the landscape dotted with whirlwinds here and there, the vision blurred by sand storms at times. During the winter, the fields turn into emerald green with peanut plants under the northerly chilly winds. Early rainy season in June, July makes it most beautiful with dancing sesame fields spreading across the campus and beyond as far as one can see.
Most of teachers stayed in downtown Magway. We had to commute to and fro UMMG by a sort of school bus which regularly fetched us at 7 am in the morning from our hostels in Magway University, Phankar Hostel for men and Yinmar Hostel for lady teachers, and took us back after classes in the evening. We went early to UMMG and stayed late at work. Over thirty RTC trucks ferried the students who also stayed in private hostels in the town.
With messianic fervour I served there for 2 ½ years. Developed under my 2 predecessors, Profs.Daw Khin Myo Chit and Daw Swe Swe Win, Physiology Department was found to be a big one, well organized and well functioning. I was both proud and humble to take the mantle of the department. It was incumbent upon me to build an effective team for teaching physiology to 1st and 2nd MBBS students. It was forged mainly with newly appointed 3-year- bond demonstrators and rotating senior staffs-associate professors and lecturers- from UM (1&2) Yangon and UMMDY. When senior staffs, together with me, formed the head end and the demonstrators the tail, my team looked like a spineless monster lacking mid level workhorses like ALs. Half life of the team was roughly one year, changing shape with the senior staffs coming and going on rotation around mid-term. Assoc.Prof. Dr. Aung Myint of UMMDY Physiology Department philosophically (and physiologically) likened my team to a microtubule, the only difference being assembly and disassembly taking place at one end - head end. As the team was a dynamic one, constantly remodeling, the most challenging task for me was to maintain harmony among the staffers. Mindful of the need to respect the individuality, I had a hard time struggling to forge harmony. Although rotating senior staffs easily got into stride with the team, junior ones (demonstrators) needed on-job training to fit into the multitasking teaching job. We seniors had to give them a leg-up to help them find their sea legs. Defying all odds, I did manage to run a tight ship.
Demonstrators had to take tutorial and practical classes and, of necessity, they had to take part in student assessment, formative as well as summative. Through hard work and drive (their own as well as mine) and, of course, their keen intelligence and vibrant enthusiasm, they grew rapidly. Senior staff and I gave lectures backed up by small group teaching, tutorials and practical classes. We had to repeat the same lectures for 2 groups of student batches of tsunami size. But, nonetheless, we taught enthusiastically, the students learned enthusiastically. "There is staff unity and mutual understanding that blurred demarcation between the responsibilities of junior and senior staff. A year long partnership, especially between staff from Yangon and Mandalay Medical Universities, gave us a chance to get to know each other better"1 wrote Assoc. Prof.Dr. Myat Thandar of UM(1), who came on rotation for one year with us.
If it was not for internet we would be isolated like small islanders incommunicado with the mainland. But, by courtesy of internet access, the world seemed just a click away. E-mail enabled us to stay in contact with home and friends. Another unique feature of UMMG was the hobnobbing with other teachers across disciplines on the school bus or while waiting for it to take us back to the town in the evening. As we are on the same boat (or car) easy intimacy and joking friendship developed among us. We could exchange news of big-city universities and Naypyitaw, keeping ourselves updated and well informed.
UMMG enrolls students from across the country except Yangon and Mandalay divisions - a unique feature of cultural mix and ethnic diversity- making the university a true "Pyitaungsu University of Medicine, Myanmar". At the start of each academic year, the students were busy with State/Division or Township student-organization functions such as meetings, get-together activities and excursions. Only when class tests neared, did the great hoopla come to an end and they calmed down to start their studies. The students were energetic and earnest as they were young. But, the students behaved like students1 and were fun-loving, somewhat wayward, and irresponsible. There were many net-game shops and video houses in the town distracting the students away from their study. Many students were addicted to these pleasure centers and they usually gravitated to them after class. Some students stayed late into the night there, couldn't get up in the morning to catch the ferry and missed classes. No wonder they became under-75%-attendance and poor-performance students in the class to be severely reprimanded by the rector. To stem the rising tide of this obnoxious trend, there was a Guardianship System which assigned teachers to the groups of students to shepherd them in good studies both in the campus as well as in their respective hostels in the town. As majority of us teachers stayed in the town, we could take good care of them. In addition, there was a committee which monitored the dress of the students in campus. The students who wore indecent clothes such as T-shirts, jean pants and skirts were fined. As a result, the students became relatively well-dressed. The Total Personal and Professional Development committee, through lectures, debates and talks, also hammered the students into good university students, hence to become good- citizen doctors when they graduate. Medical students were famous for braking traffic rules by joy-riding (3 on one) motor cycles, driving without driving or vehicle license and without helmet. To prevent those minor infractions, the teachers were assigned, along with motor- vehicle -police officials, at check-points in the town to check the medical students.
One may never know what UMMG is like, if one hasn't been there. It's just another university of medicine in Myanmar, beautiful as it can be in its own right. To be a ten star physiologist2, I tried to make my corner shine to add to the already glowing light of Magway - UMMG. All things considered, I felt pretty good, personally and professionally, about my life in Magway. I very much enjoyed the work, despite considerable physical and emotional toll, not to mention financial predicament. I could tell I had done my level best as far as teaching physiology was concerned, all the while I was torn between my duty toward my family and my duty to my work. Forget minor inconveniences inherent in being away from home, my two-and-half- year stint in UMMG was a happy segment of my career as a teacher, and will remain a happy memory.
A medical teacher's life will never be as fulfilling as it can be until one can serve any university of medicine under DMS without discrimination. Call of duty can change the hearts and minds of many by simply, yet poignantly, sharing the personal stories of commitment, sacrifice and service. All the teachers who had been to UMMG must have different stories to tell. Mine tells only part of the big story.
References :
(1) Myat Thandar, "Decent face, decent dreams", P&B Bulletin, Vol.1, No.1, February 2006.
(2) Nyunt Wai, " Ten Star Physiologist", P&B Bulletin, Vol.1 , No.2 , August 2006
(MEUB, UMM Vol.8, No.1, May, 2007)
.